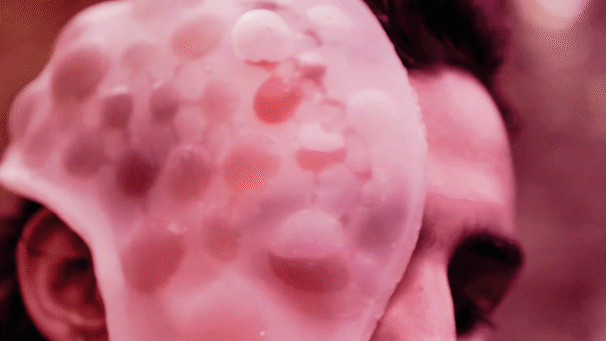 Soft Robotic Face Prosthesis that Responds to Facial Expressions
Aposema speculates on a near future where we rely on technology to replace our ability to read facial expressions.
An accessory composed of a soft robotic prosthesis, biometric sensors and an augmented reality overlay, is proposed to read and communicate facial expressions.
Design research of soft robotics technology. We tested materials and behaviors using digitally designed 3D printed molds.
Urban Farming for Desegregation
Acre is one of the few ethnically mixed cities in Israel and it is extremely segregated. Political forces have caused the formation of the city as an accumulation of disintegrated enclaves rather than an urban unity. A network of urban farming is proposed as a means of forming connectivity between Acre's enclaves.
BorderLine is a 3D printed modular necklace designed to alert the wearer of dangers in the urban environment. Each part of the necklace holds a component that collects data or notifies the user of danger through haptic feedback or light stimuli. The data is fed by users to an app that collects it and maps hazards throughout the city.
Urban Continuity for Connections
This project is an exercise in improving a city through a process of intensification of building and resident population on top of urban continuity.
反社会 | Interactive Head Cover
Han Shakai is the Japanese phrase human engagement according to conditions determined by decision makers. The Design poses a critic on the grip that parties of interest may hold over our social interactions through means of networked technologies.
Augmented Reality Experience
140.HR is an audial augmented reality experience that allows the participant to relive the past life of a public space through a journey of sounds. Set within the old, unoccupied building of the Bartlett School of Architecture in London, the participant follows visual signs to hear spatialized sounds that used to occupy the school.
La Durée; a term coined in 1913 by French philosopher Henri Bergson, refers to the subjective experience- rather than the objective definition- of time. In order to grasp time, our mind sees states as "side by side" or sequential. True change can only be grasped by intuition. La Durée is a consciousness, which could only be achieved through mobility, dynamic flow and multiplicity.
​
The projection mapping allows the observer to experience passing by the installation in a different manner, making them aware of La Durée and subjectivity of time.
For Oded Eavri Architects
​
Architectural conservation research and design of historic buildings in Tel Aviv, Ramat Gan and Jerusalem, Israel for Oded Eavri Architects.